*Excuse my long winded post, I wanted to document fully my thought process through the build. Feel free to skip ahead.
This will be a WIP (Work In Progress) thread; as such, It will be updated as the build progresses.
Years ago after seeing Rigel's awesome version of
Robert
April
's
Enterprise
on SSM, I was inspired to create my own. I picked up a 1k Ent and went about looking for a direction in which to take the build; however, the more I looked at pics of the 'Cage'
Enterprise
vs. the production
Enterprise
, the clearer it became that to make something that (
I
thought) would appear to be a plausible precursor to the Pike's Ent. I would need to make it appear
less
detailed than the Pike's
Enterprise
. Now, how would I go about making
that
ship look
less
detailed?!
Enter the Lindberg B-58 Hustler.
I picked up a Lindberg B-58 for five bucks on ebay thinking I could use it for a scratch and bash I've been planning. After receiving the kit, I started looking over the parts and picked up the external fuel tank, held it up to my 1k
Enterprise
and realized that It's shape and size would make it a pretty good nacelle! And then hit upon the idea that perhaps if I had an interesting shape I wouldn't necessarily
need
lots of detail. With a little cutting and sanding here and there, I came up with this...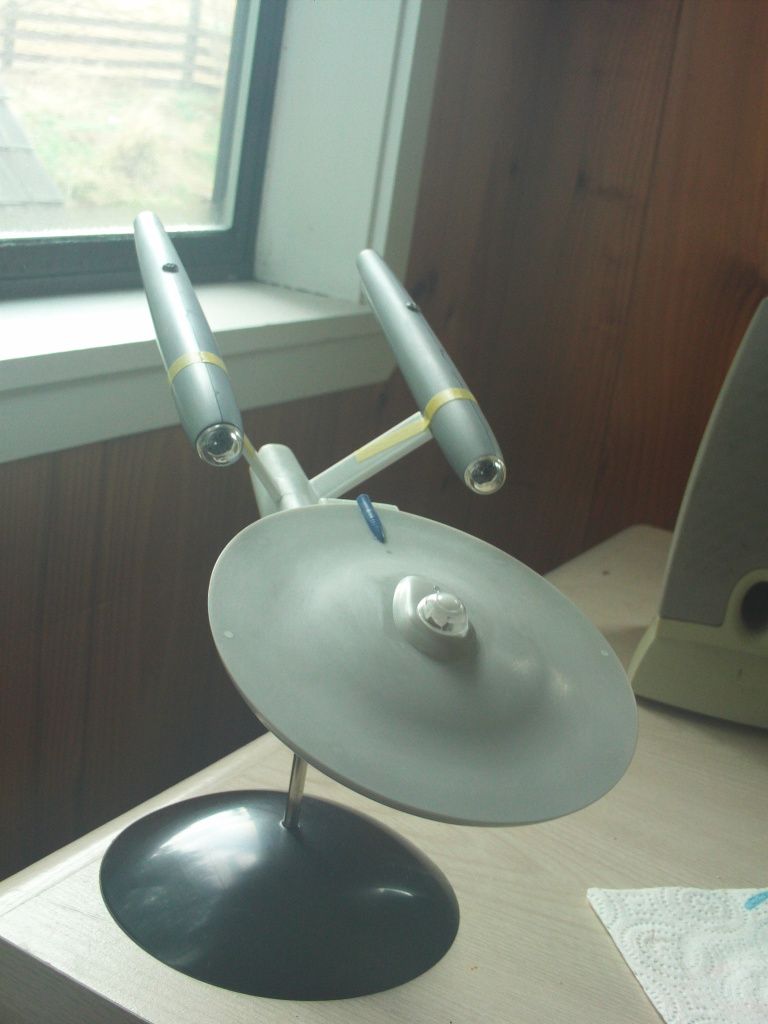 I decided to go for a more rounded appearance overall, reshaping some of the ships harder edges and was inspired by mid-century Architecture and industrial design. Sort of a jet-age
Enterprise
. I was also thinking that most of the design would remain pretty much the same, with only the engines (Warp and Impulse) having changed and evolved over time.
http://i299.photobucket.com/albums/mm30 ... 80513c.jpg
http://i299.photobucket.com/albums/mm30 ... 6fc678.jpg
http://i299.photobucket.com/albums/mm30 ... 14aa58.jpg
http://i299.photobucket.com/albums/mm30 ... 0779f7.jpg
You'll notice the model is missing several parts, Nacelle end caps, deflector, etc. These are all accounted for and will be added to the final build once paint has been finalized.
That's it for now, folks; comments and (constructive) criticisms welcome.